Recent Workshops
2012 Exposure: A Weekend of Workshops
November 2-4, 2012
Sunset Center, Carmel, CA
Member price $225, Non-member price $275
See: Martha Casanave: Letting Go of the Camera - The Joy of Cameraless Photography (Friday, November 2, 2012)

This class produced a prodigious amount of work. To see some examples of participants' work and read an article about the class, go to nonfigurativephoto.
Cameraless Photography July 16-27, 2012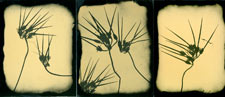 The earliest experimenters with light-sensitive materials in the 18th century, and the early photographers of the 19th century made cameraless imagery, which is now experiencing a revival. This hand-on class, in addition to providing a brief review of the history of cameraless photography, will introduce lumen prints, chemigrams, cliché verre, cyanotype photograms, reversed cyanotype photograms, dry plate tintype photograms, and other processes. The class will be largely experimental, with no "good" or "bad," just lots of fun!
Martha Casanave graduated from the Monterey Institute of International Studies with a degree in Russian Language and Literature and began her working life as a translator in Washington, DC. She has been an exhibiting and working photographer and educator on the Monterey Peninsula for over thirty years. She was awarded the Imogen Cunningham Photography Award for her portraiture (1979) and also was a 1989 recipient of the Koret Israel Prize. Her book Past Lives-- Photographs by Martha Casanave was published by Godine in 1991. Her second book, Beware of Dog, was released by the Center for Photographic Art in 2002. Her most recent book (exclusively pinhole) called Explorations Along an Imaginary Coastline, was published by Hudson Hills Press in 2006. Casanave's photographs are included in many major collections, such as the Boston Museum of Fine Arts, the Art Institute of Chicago, the Stanford Museum, the Bibliotheque Nationale, the J. Paul Getty Museum , and the Graham Nash private collection.). Casanave teaches Beginning Photography, Portraiture, and Alternative Photographic Processes at Cabrillo College in Santa Cruz, and Monterey Peninsula College. She also teaches workshops and Master Classes nationally and internationally.. REGISTER ONLINE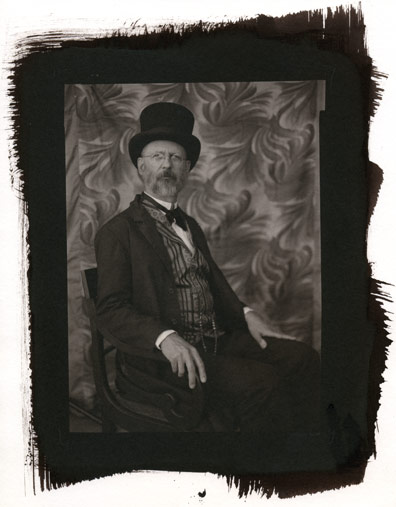 Albumen Printing Two-day workshop with Martha Casanave $295 General / $270 Patron and Photographer Members Saturday, April 28, 2012, 10am-4pm Sunday, April 29, 2012, 10am-4pm
Albumen printing is a contact, printing-out process, using UV light. The semi-gloss version was the most common printing method used with wet-plate collodion glass negatives, from 1850 to the late 1880s. In the late 1880s there was a revival of interest in the more "artistic" matte papers. The original formula for the matte albumen process (which uses a mixture of albumen and starch) was invented by the Austrian scientist Baron Arthur von Hubl in 1895. Albumenized paper, both glossy and matte, continued to be manufactured until the late 1920s.
In this workshop, you'll break a lot of eggs and make your own matte albumen paper. While the paper dries, Martha will give a presentation on photography and albumen printing in Victorian England, concentrating specifically on the work (and eccentric personalities) of Julia Margaret Cameron and Charles Lutwidge Dodgson (Lewis Carroll). On Sunday you'll sensitize and expose the prints. Students will need to supply their own large format or enlarged negatives. Upon enrollment, we will send Martha's suggestions for optimal negative properties that produce the best prints.
Martha Casanave has been an exhibiting and working photographer for over thirty five years. She has taught many workshops and master classes in the U.S. and abroad. Since 1992, she has regularly taught photography at Monterey Peninsula College and at Cabrillo College in Santa Cruz, California.
She was awarded the Imogen Cunningham Photography Award (1979), and also was a 1989 recipient of the Koret Israel Prize. Her book Past Lives, Photographs by Martha Casanave was published by Godine in 1991. Her second book, Beware of Dog, was released by the Center for Photographic Art in 2002. Her most recent book of pinhole photographs, Explorations Along an Imaginary Coastline, was released by Hudson Hills Press in 2006. Casanave's photographs are included in many major collections, including the Boston Museum of Fine Arts, the Art Institute of Chicago, the Stanford Museum, the Bibliotheque Nationale, the J. Paul Getty Museum, and The Museum of Photographic History in St. Petersburg, Russia.

To Register